As rules relax and tradition wanes, more families could find a half-full reunion table the order of the day. But there are ways for those away to make amends, all at a click of the mouse, writes CHAI MEI LING
Hampers are popular among family members who can't make it home for the celebration.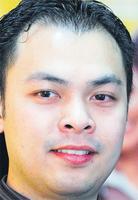 Vincent Tong, Heartbeat.com.my.
Grace Lim, One Red Lily.
FOR three years in a row now, the Tans would not be finding their eldest, based in New York, greeting them at the doorstep this New Year.
Standing in as replacement for Selena Tan would be a basketful of goodies, her parents' favourites – quality mushrooms, canned pickles and Pu'er tea leaves.
What the nursing student lacks in attendance, she makes up for in thoughtfulness. This was no complicated gesture, if one was as net savvy as the 25-year-old Tan.
A search on the Internet for Chinese New Year fare produced a long list of gift ideas rich for the pickings, with delivery services thrown in to make for a more attractive bargain.
Bangsar's One Red Lily Sdn Bhd, for one, offers more than flowers. The New Year hampers, tastefully decorated in thematic red and gold, are available from RM98 to RM288.
Particularly eye catching is the one named Longevity, which contains delicacies like Japanese mushrooms, pineapple tarts, mixed nuts, preserved plums, lin kou (sticky rice cake) and a bottle of red wine.
Although corporate bodies make up the online florist's largest clientele, the hampers are a hit with individuals from as far as Singapore and England, who can't make it back for the big day.
"One client, who hasn't celebrated with the family for a few years now, never fails to have us send out a hamper containing his mum's favourite food items each year," says Grace Lim of One Red Lily.
"Another doesn't want hampers or flowers. So we delivered two dozens potted money plants wrapped in red paper and ribbons on her behalf.
"To stay competitive, it's all about giving attention to customers' needs and wants."
As Malaysians develop a penchant for gifts that set them apart from others, dotcom businesses which offer unique memorabilia at a click of the button continue to flourish.
Heartbeat.com.my, one of the country's largest online personalised gift stores, puts forward festive packages which allow for family photos to be imprinted on mugs, cushion covers and jigsaw puzzles.
Not the most traditional of Chinese New Year gifts, but the personal items are so well received that they register a huge following in the 18-25 age group.
Orders, which started streaming in a fortnight ago, are expected to lift sales by 30 to 40 per cent, says online manager Vincent Tong, 28.
"A mug is a mug, but by offering designer templates, we add value to the gift.
"So what we're selling is actually the concept, not just products," says Tong, who together with two team members, have already gone full steam ahead into preparing for the next peak period – Valentine's Day.
Also riding high on this festive season is Finesse Elegance Sdn Bhd, importer of boutique premium wines sourced from exclusive wineries around the world.
Sales are up by a quarter, thanks to New Year marketing and the growing population of wine drinkers in the country, says director Nicholas Lee.
"It's most convenient and meaningful to bring a bottle of wine when you go on house visits. Chinese New Year is a 15-day celebration and people drink when they sit down to a year-end dinner, a reunion meal, or a lou sang dish.
"Wine drinking is generally new but it's catching on fast among the younger set of adults. The older generation, that sticks to beer and hard liquor, is also starting to take to wine drinking for health reasons."
With an average price tag of RM100 per bottle, the wines at Finesse Elegance could easily leave a dent on one's wallet, but with a clientele that does not compromise on quality, there is no fear of business being affected even if recession sets it, says Jessica Chok, a director.